2nd European i-Tree Conference
Would you like to get more out of your i-Tree toolkit?
Oct 2nd, 2019 in Malmö, Sweden
Oct 2nd, 2019 in Malmö, Sweden
Workshop spaces are limited to 40 delegates - secure your space!
For further information, please contact us:
Treeconomics
(+44 ) 01392 249170
info@treeconomics.co.uk
---
Don't miss this fantastic opportunity to meet the experts and to find out about the latest exciting i-Tree projects around the world!
Since the first European i-Tree conference in 2015, the toolkit has been used in many varied projects across the globe. Come and hear our speakers talk about some of these projects, and find out how you could make more of i-Tree in your own work.
Day 1: Listen to ten speakers from across three continents share their own applications of i-Tree - be inspired!
Day 2: Participate in our workshop which offers an introduction to the i-Tree software and its application (spaces limited).
New to i-Tree? Come and find out how this tool, created by the USDA, can help you measure urban tree populations and calculate the economic value of their eco-benefits.
---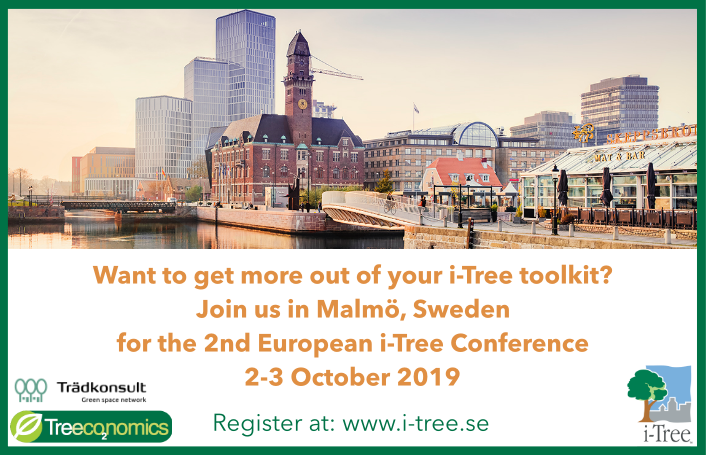 Tagged with:
users