i-Tree: What's New
i-Tree 2018 Suite - now available!
The i-Tree 2018 suite is now available for download and use online. Existing i-Tree users who update their desktop application to the latest release will have access to the completely redesigned Hydro v6 (beta) application offering new reports and options. Users who are currently working on an Eco v6 project using the mobile data collection system should make sure all field data being collected is submitted by collectors and loaded into the desktop prior to updating to i-Tree 2018.
i-Tree 2018 highlights include:
New Landscape (beta) High Resolution Data Available
i-Tree Landscape is continuing to grow. In the latest release we have added a number of new maps and data layers including: EPA Nonattainment Areas, FIA Forest Types, Future Ozone Effects, Wildland Urban Interface, Pest maps, Hardiness Zones, Forest Service Basal Area data by species and BenMap Health Incidences.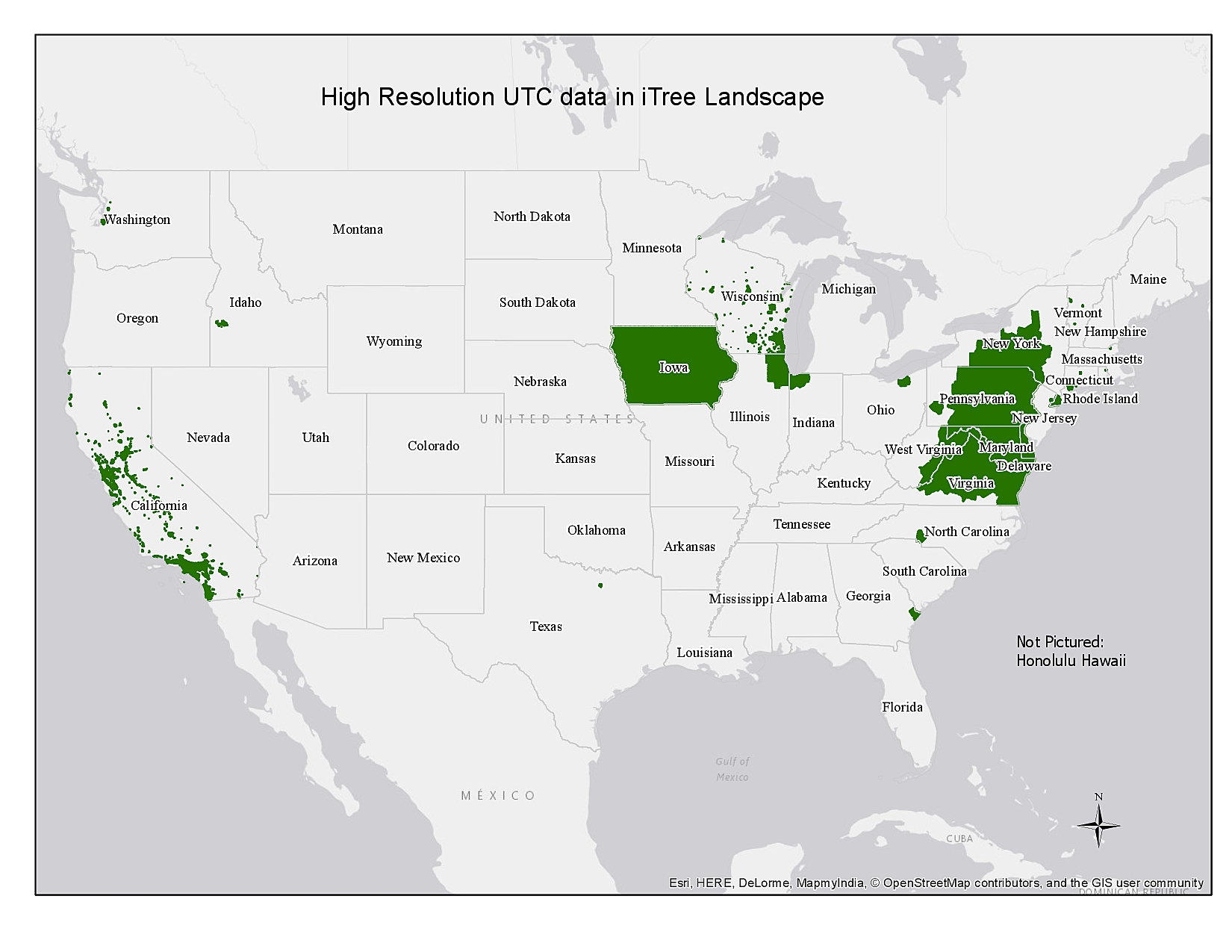 In addition, we continue to expand our high resolution data availability with Urban Tree Canopy (UTC) coverage, increasing the accuracy and scale of Landscape's ability to assess tree benefits and other ecosystem services in US communities.
Learn more about Landscape updates >>
View a June2017 webinar on i-Tree Landscape >>
i-Tree Integrated in EPA's EnviroAtlas
EnviroAtlas is a free, online mapping and decision tool developed by the U.S. Environmental Protection Agency (EPA) and partners. It provides interactive resources for exploring the benefits people receive from nature, or "ecosystem goods and services" (EGS). EGS are critically important to human health and well-being, but they are often overlooked. EnviroAtlas users can access, view, and analyze diverse information to better understand the potential impacts of decisions on EGS in order to capture their benefits and avoid unintended consequences for human welfare.
As a partner in the EnviroAtlas community component, the USDA Forest Service (USFS) contributes dozens of data layers based on i-Tree tools.
Learn more about i-Tree in EnviroAtlas >>
i-Tree Customer Satisfaction Survey
Please help us improve the i-Tree Tools, technical services and resources by taking a brief survey, which will help us learn more about the growing i-Tree user base, and which tools and services are most helpful.
Take the i-Tree Survey>
i-Tree Video Learning
Explore the Video Learning Page which features videos, screencasts and archived webinars on i-Tree applications. New videos are added to highlight new features as they become available!
Visit the Video Learning Page>
i-Tree version updates
It is important for active users of i-Tree to periodically use the "Check for Updates" tool found under the Help menu of i-Tree applications installed on your computer. This will ensure that you are using the most up-to-date version available. If you installed all i-Tree components, they will all be updated when performing this function. For specific details about changes in the latest version of i-Tree, check the change log which lists the changes that have been made to each application.
Application
Version
i-Tree Suite
6.1.26
i-Tree Eco v6
6.0.14
i-Tree Eco v5 (legacy)
5.2.2
i-Tree Streets
5.1.7
i-Tree Hydro v6
6.1.3 beta
i-Tree Hydro v5
5.1.1
i-Tree Vue (legacy)
5.0.3
i-Tree Storm
4.0.1
View the complete Change Log
Follow i-Tree on Twitter
For those interested in keeping up with the latest i-Tree related news, articles, software updates, conference information, training opportunities and more, you can now follow i-Tree on Twitter.
>