i-Tree News Article: Mexico City Workshop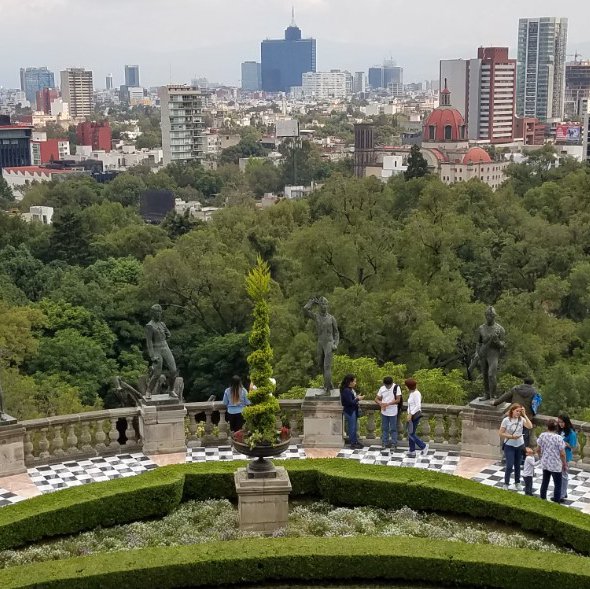 The U.S. Forest Service International Programs (USFS-IP) recently coordinated a three-day workshop in Mexico City to introduce the latest version of i-Tree Eco, which is now fully automated and translated in Spanish for country-wide use throughout Mexico. Mexico joins the list of other countries including the US, Canada, Australia, and the UK that can readily use i-Tree Eco for local analysis of trees and forests. Through a mix of classroom and field-based exercises, participants learned how to use several i-Tree applications and were provided with a deeper understanding of how i-Tree can be used for urban planners, advocacy groups, research, and educational purposes.
The thirty workshop participants represented eight states in Mexico and multiple disciplines, including municipal government, academic and research institutions, federal government offices, consultancies, local NGOs, and community advocacy organizations. During opening sessions, they discussed and shared common and diverse technical, environmental, socio-economic, and natural resources challenges including the following:
The need for integrated planning and diagnostic tools to better understand, manage and protect green spaces, and assess rapid urbanization impacts at multiple scales;
Environmental and public health related challenges such as poor air quality, more extreme heat events and stormwater flooding, access to clean water, and invasive species management; and
Cultural and social challenges related to a lack of public and government awareness, need for funding, understanding social benefits and equitable access to green spaces, and the need for proper tree care education and management.
The group discussion activities helped set the stage by illustrating common keys to using i-Tree effectively including understanding objectives, considering available resources and exploring how i-Tree tools could be applied to meet objectives.
Participants were first introduced to the user-friendly i-Tree Canopy application, which allows users to rapidly assess tree cover and other cover types in an area of interest. Advanced use of i-Tree Canopy to detect tree cover change over time using Google Earth historical imagery was also demonstrated. Canopy continues to be one of the most popular and effective i-Tree applications for international users because it can be accessed online and allows users to quickly and accurately estimate baseline data for tree canopy cover and other cover types. An i-Tree Canopy assessment is often the starting point for exploring more advance assessment options and starting conversations with decision-makers.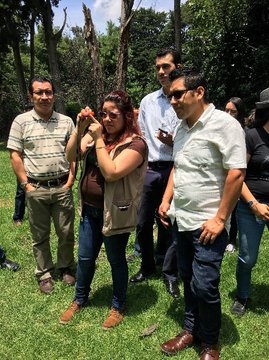 The latter two days of the workshop focused on introducing the new i-Tree Eco Mexico version, which uses field data along with local air pollution and meteorological data to quantify forest structure, environmental effects, and value to communities. Outputs include values for carbon sequestration, air pollution removal, avoided stormwater runoff, species composition, structural analyses, and other custom reporting options.
Participants learned how to plan and configure different types of Eco projects, including importing existing tree inventories for analysis. Additional instruction covered Eco tree measurements and plot data collection, project data management, processing, and report analysis. Horacio de la concha from Agrinet also shared his experience conducting several Eco projects in Mexico.
It was also important to convey how the i-Tree Eco model was adapted for Mexico and some of the limitations of the data and accessible resources. For example, the availability of hourly pollution and weather data throughout the country restricts city location integration to urban metropolitan zones and larger Mexican cities, which still represents approximately 83% of the urban population. Additionally, some Eco processes and estimates, such as tree structural values and the monetary benefits of hydrology effects, are based on methods for assessing these resources in the U.S. Knowing these considerations, i-Tree users in Mexico can use nearby cities if their city is not available, and they can submit new tree species, new city locations, hourly pollution data and precipitation data using the i-Tree Database application, making these available in future Eco updates.
In addition to the i-Tree Workshop, the USFS-IP and its partners coordinated an informational meeting in Mexico City to introduce i-Tree to high-level government offices, NGO directors, and business executives. Twenty representatives participated in-person, and thirty-five connected remotely. The forum featured several informational sessions capped by a presentation from Sayda Rodriguez, Director of Sustainability for the City of Mérida, who discussed the city's i-Tree Eco assessment projects and how the data is being used to assist tree management, improve policies, and engage the public.
The Mexico City i-Tree workshop and informational program helped demonstrate how i-Tree serves as an innovative planning and engagement tool that provides robust information to better inform urban development, advocacy and policy making. Participants from the workshop are now exploring exciting ways to use the tools to address specific challenges that they are facing in their communities. Workshop participant Felix Ayala, from the State of Chiapas, has already organized and conducted a local i-Tree training in Chiapas to share knowledge and explore assessment options with colleagues from his city. We are looking forward to hearing more success stories throughout Mexico and Latin America.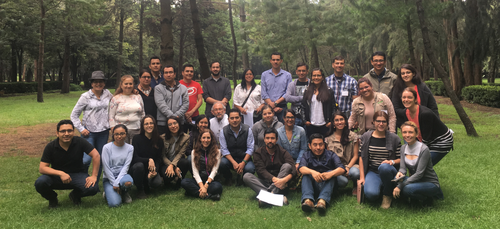 The Mexico City workshop was coordinated by Rachel Sheridan from the USFS-IP; and instruction was provided by Al Zelaya of the Davey Institute and Fabiola Lopez from the National Research Institute, INIFAP. Dr Hector Benavides (INIFAP), Rafael Flores (USFS-MEX) and Alexandra Zamecnik (USFS-IP) assisted with planning and coordination. Rossana Landa Perera and Yadira Irineo Gomez from The Mexican Fund for the Conservation of Nature (FMCN) provided logistical and technical resource support.
The i-Tree Eco Mexico version is free to download and is available within the most recent version of i-Tree desktop suite of tools. Computers set up with Spanish language settings will run the Spanish translated version of Eco.
Links of Interest
I-Tree Eco Spanish Language Manuals and Guides
Mérida i-Tree Eco Analysis Reports
Mérida Infographic Posters
Thank you to Rachel Sheridan, USFS-IP, for assistance with developing this article.