i-Tree News Article: i-Tree and STEW-MAP Workshop Focuses on Rapid Growth in the Philippines
Secondary cities in the Philippines are experiencing rapid population growth and urbanization which has created significant challenges for city managers to preserve natural resources sustainably while supporting economic expansion and promoting inclusiveness. The City of Puerto Princesa on the Island of Palawan decided to explore an innovative two-tool strategy of applying i-Tree to improve their understanding of the benefits and values of urban trees and forests; and utilizing the Stewardship Mapping and Assessment Project (STEW-MAP) program to identify, map and work more collaboratively with stewardship groups in Palawan.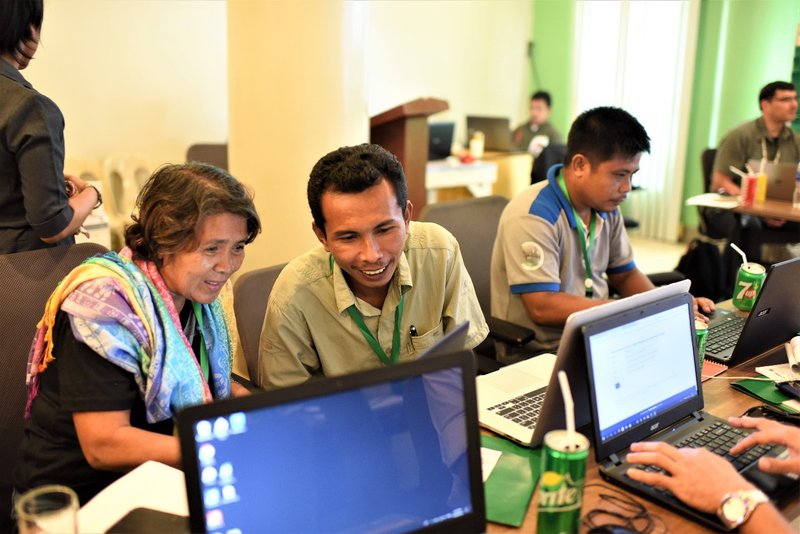 Workshop participants exploring online urban forestry tools such as i-Tree.
The idea of applying two U.S. Forest Service tools was conceived by Carlo Gomez, Head of Puerto Princesa City's Environmental and Natural Resources Office (CENRO), after being introduced to i-Tree and STEW-MAP during a two-week USFS International Seminar on Urban Forestry held in Chicago and New York City in 2017. Gomez recognized that i-Tree analyses and project findings could be used more effectively to influence policy, improve planning and advise management by working collaboratively with stewardship groups with similar environmental and sustainability interests. Applying STEW-MAP and i-Tree together could be force multipliers for the city to implement more sustainable growth practices and policies.
Over fifty participants attended the March workshop representing the City of Puerto Princesa, Palawan non-governmental organizations (NGOs), academic institutions, and representatives from five other Philippine secondary cities facing similar rapid urbanization issues. Participants were introduced to i-Tree and STEW-MAP and participated in concurrent learning sessions for additional hands-on exploration of urban forestry tools and programs. A key aspect of the workshop was open dialogue between participants and instructors to understand common challenges, limitations, and to identify the best opportunities to apply i-Tree and STEW-MAP successfully.
Although i-Tree tool options are limited for use in the Philippines, i-Tree Canopy was identified as an ideal tool that could be used in multiple ways including the following:
Establishing baseline canopy and other cover estimates to monitor how land is changing due to rapid development and urbanization
Quantifying past canopy change in rapidly urbanizing areas by conducting change surveys using Google Earth historical imagery.
Comparing canopy cover between urban and rural areas, watersheds, campuses, political boundaries and management units.
i-Tree Eco could also be applied to provide structural analysis and limited ecosystem service estimates, with the potential of improving tool use and value by submitting local pollution and precipitation data for future integration in the Eco model. We look forward to hearing more and sharing progress as the Puerto Princesa Team and other Philippine cities continue to develop and advance several urban forestry pilot projects utilizing i-Tree Canopy, i-Tree Eco and STEW-MAP.