i-Tree News Article: i-Tree Eco's Inventory Import Tool Provides Data to Washington D.C. Park Visitors
With the help of 270 citizen scientists this past spring, Casey Trees staff conducted an inventory of 9,290 trees across several Washington D.C. parks including iconic locations of the Lincoln, Jefferson and Roosevelt memorials to the hidden local treasures of Lincoln Park and Haines Point. Carried out in collaboration with the National Park Service, Urban Forestry Administration and Department of Parks and Recreation, staff and volunteers collected information on species, trunk diameter, canopy size, geographical location and more, for every individual tree within the parks. The inventory was then imported into i-Tree Eco so that the tree benefits could be determined.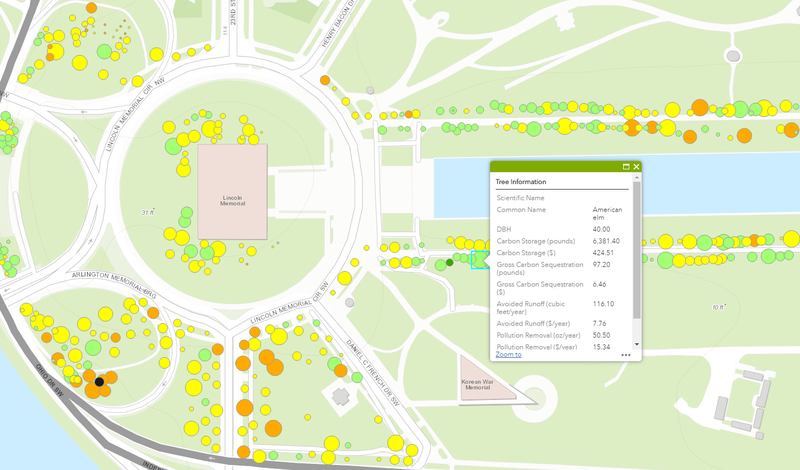 A Snapshot of the Washington D.C. Park Inventory Map
As an exhibition of this monumental landscape, Casey Trees has used the tree benefits information that was generated by Eco and the location information that was gathered by staff and volunteers to launch a Park Inventory Map. Encompassing more than 100 species denoted by different colors and shapes, visitors can walk a virtual tour on their smart devices discovering the health and environmental benefits that individual and groups of trees provide. In this interactive platform visitors can tap on individual trees from a birds-eye view or zoom out to see the analysis of an entire park and sections of the National Mall to discover such information as the annual amount of carbon sequestration, air pollution uptake, and avoided rain runoff. For example, the American elms lining the reflecting pool on the National Mall contribute more than 17,000 lbs. of sequestered carbon and 10,344 ounces of pollution removed annually, with a structural value of almost 3 million dollars!
This is the first time a comprehensive inventory has been completed in DC public parks and the first in more than a decade on the National Mall. Creating inventories and establishing a regular monitoring program assists in the management of park resources as those processes help identify status and trends. "The National Park Service relies heavily on volunteers to achieve its mission," said James Pierce, Volunteer Coordinator for the National Mall and Memorial Park. "Visitors come from across the globe to the annual National Cherry Blossom Festival and expect to see not only the blossoming Japanese cherries, but native elms, sycamores, and oaks as well. Casey Trees plays a vital role in ensuring that these visitors enjoy once-in-a-lifetime experiences involving our historic trees."
Casey Trees offers tree stewardship volunteer opportunities throughout the year. With park inventories beginning again in the spring, sign up for your chance to make a contribution to your cities trees.
Learn more about i-Tree Eco Complete Inventory options: