Pennsylvania Horticultural Society's i-Tree Design Project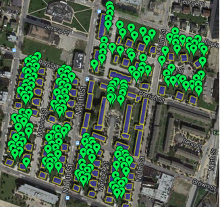 Whether you're interested in the benefits of trees in your own front yard or across an entire community, i-Tree Design enables you to easily assess those and other scenarios – and to estimate values far into the future. The latest version of the simple web-based interface now enables users to work with multiple structures and hundreds of trees. This added flexibility, along with the ability to select and delete individual trees and structures, makes it simple to create projects of all sizes – ranging in scale from a single tree to a large campus.
i-Tree Design is the first tool in the i-Tree suite that allows a user to explore how benefits change over time. In that way, it's possible to show that even a small tree can represent a wise investment as the benefits compound with the expanding tree crown. This feature facilitates more strategic decision making around species and site selection, with the goal of realizing the desired level of specific benefits in the shortest time.
With these enhanced features at their fingertips, i-Tree Design users continue to find innovative ways to explore and demonstrate the benefits of trees. In particular, evaluating the benefits trees provide to multiple buildings can increase community engagement, showing residents that trees are not only having an impact on their own heating and cooling costs but also the costs to their neighbors. Ultimately, such multi-tree/multi-structure projects can support campus and neighborhood level forest management.
As one innovative example, the Pennsylvania Horticultural Society recently created an i-Tree Design project to estimate the energy savings that would be realized by planting 180 trees around 99 buildings on a Philadelphia Housing Authority property. Based on planting 1.6-inch diameter trees, i-Tree Design estimated the following: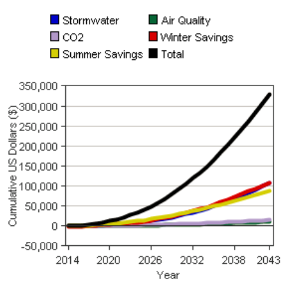 Total benefits of $328,000 over the next 30 years
Savings of $87,000 in summer cooling costs
$108,000 in reduced winter heat loss
The project provided evidence to support the planting based on the long-term savings that PHA would realize by investing in the planting and maintenance of trees.
Other interesting examples of Design projects are discussed in the i-Tree Design intro and walkthrough learning video available on the i-Tree Video page.