Tree Ecosystem Services Assessment, Ridge Park Australia
The City of Unley, Australia is taking action to evaluate its urban forest, opening the door to discussions with community members and government officials about the benefits and management needs of their forest. One of the tools they are utilizing to accomplish their goals is i-Tree Eco. Seed Consulting Services together with Adelaide Arb Consultants was contracted by the City of Unley to conduct a joint i-Tree Eco and tree risk assessment of the trees within Ridge Park, located in the southeast corner of the City. While the project was limited to the 683 trees in the park, the estimated benefits were over AU$3 million facilitating new conversations with the city government and community members about the value of their forest assets.
Focusing on a key city green asset
Covering a land area of approximately 5 hectares, Ridge Park is the largest area of public open space within the City. According to the report that was produced by Seed Consulting, the features and services offered within Ridge Park make this area a key environmental asset that is valued by government officials, local residents, and visitors, alike. Assigning economic values to trees and their services will help decision-makers understand the business-case for trees and the need for long-term tree planting programs.
The peer reviewed modeling of tree benefits within i-Tree Eco helped to place Ridge Park's trees on a more level footing with other urban assets, providing a baseline for evaluating management practices. This will help managers understand if their actions around tree plantings and maintenance are resulting in increases or decreases in tree canopy cover and associated benefits. These strategic management decisions are key to establishing sustainable community forests.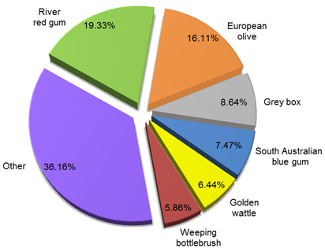 Key findings of the assessment (in AU dollars):
Number of trees: 683 (58 species, including 16 exotic species)
Total canopy area: 40,226 m2
(equivalent to ~77% of total park area)
Structural value: $3,093,814
Pollution removed: 203.56 kg/yr. ($99.22/yr.)
Carbon stored: 342 tonnes ($7,871)
Carbon sequestered: 10.08 tonnes/yr. ($232/yr.)
Avoided run-off: 254.5 m3/yr. ($578/yr.)
Overcoming challenges and finding new opportunities
Although Dr. Jenni Garden, Senior Associate at Seed Consulting Services, had conducted five i-Tree Canopy projects within Australia, this was her first i-Tree Eco project. Dr. Garden indicated that one of the challenges in conducting this project was the few days it took to become comfortable with the i-Tree Eco data collection protocol. Additionally, Seed Consulting Services and Adelaide Arb Consultants had to overcome data collection difficulties that included working in thickets of trees on steep embankments. This is a challenge that crosses international boundaries and her recommendation is to use larger field crews in challenging terrain.
Now that Dr. Garden has the momentum of conducting six i-Tree projects across Australia she clearly shows no indication of slowing down. She recently facilitated the successful application for grant money to support a collaborative Eco project across five metro Councils and one regional Council, with this project due to commence in the coming weeks. Her perspective is that collaborative Council projects are an ideal way to reduce the cost to individual Councils while allowing for a consistent approach and comparable outputs.
She thinks that in the past several Councils shied away from Eco given the extensive field data that was required. But, now, she is optimistic that the new version of Eco will help with this by allowing users to run new and existing data through Eco that only contains a couple of metrics. With less data needed, this will allow for a more rapid assessment process at a lower cost. Her final piece of advice to i-Tree users is to always keep a back-up paper copy of field collected data, although she does admit that perhaps she is "a bit old school there!!"