i-Tree Eco Mobile Data Collection (MDC)
Smartphones and other web-enabled mobile devices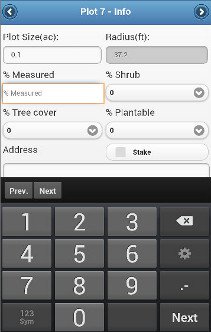 The mobile data collection system, available in i-Tree Streets and Eco, is designed to work with newer web-enabled mobile devices. This is not an app or program that is loaded on a smartphone or tablet. The mobile web form system runs on a device's web browser and relies on internet connectivity, web browser functionality and data caching capability.
A web browser with HTML-5 compatibility is required (most recent versions of Chrome, Firefox, and Safari are compatible; Internet Explorer 9 and 10 have limitations and are not recommended.
Newer iPhones, iPads, Android phones and other devices are typically HTML-5 compatible and have data caching capabilities that allow for data collection to continue if internet connectivity is disrupted.
Caution - some devices such as Windows Phone 7 smartphones and older devices are limited and will require continuous connectivity to advance through the online web forms.
You can test your device's data collection and caching capability by using the airplane mode to see how it will function when connectivity is lost.
Mobile data collection example links
The data collection links below were generated from configured i-Tree Streets and Eco v5 projects for demonstration purposes only. Click one of the example links below to open and test tree or plot data entry on a mobile device or desktop browser.



If you open and test multiple links, you may receive a message informing you that the key does not match to let you know that you are changing project configurations. You can submit data but will not be able to retrieve data to populate a project as these are for testing the mobile forms only.