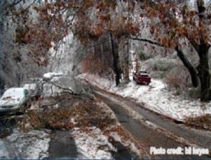 The i-Tree Storm Damage Assessment Protocol Utility is now simply called i-Tree Storm. i-Tree Storm establishes a standard method to assess widespread damage immediately after a severe storm in a simple, credible, and efficient manner. This assessment method is adaptable to various community types and sizes, and it provides information on the time and funds needed to mitigate storm damage. A Hurricane Adaptation of the utility is also available for i-Tree Storm users.
Using sample street segments which are randomly chosen in a community, a survey is performed, and time and cost estimates are made. Data collection applications for use on personal digital assistants (PDAs) facilitate data collection and entry. Paper forms are available for those choosing or needing to do this work manually.
The protocol includes an optional pre-storm stage that evaluates a community's street-side and adjacent trees, and estimates the amount of cleanup that might be needed after a severe storm. The advantages of this pre-storm work are to create the critical random sample before an emergency, and to provide reliable cleanup numbers that are useful in persuading community officials of the seriousness of the potential event.
Once a storm has passed with community-wide damage, the same sample plots are re-surveyed; if pre-storm work was not done, random sample plots are created and surveyed. A qualified damage assessor evaluates the amount of debris and tree damage in each plot.
A template developed in Microsoft's Excel allows all computations to be carried out automatically as soon as the field data are uploaded or manually entered. It estimates the initial resources necessary for hazard mitigation and debris cleanup for the entire community.
Natural Disaster Damage
Each community has differing capabilities to deal with storm-related emergencies. Because of this, FEMA recommends that each community have an Emergency Operation Plan. and a Debris Management Plan. Since debris removal is reported as the most significant storm-related problem, a FEMA Debris Management Guide can be found on the FEMA website which provides guidance in planning, organizing, mobilizing, and controlling a debris removal and disposal operation, and the Forest Service has recently developed a useful Tree Emergency Plan Worksheet for setting up a plan to deal with natural disasters to the urban forest.
In this Protocol, methods are provided to estimate the following:
The potential (pre-storm) and actual (post-storm) amount of tree debris in cubic yards generated from a natural disaster, and costs for its removal.
The potential and actual man-hours and costs required for approved tree removals.
The potential and actual man-hours and costs for hazard pruning.
The Storm Damage Assessment Protocol is intended to provide this information in a timely fashion immediately after a storm. It is important to keep in mind that the Protocol is not a replacement for the more extensive full-scale surveys or estimates of damage to trees that would typically occur in the days and weeks after a storm emergency. Full-scale surveys are needed to estimate damage more accurately and direct cleanup work after a storm.
Credits/Contact Info
i-Tree Storm is an adaptation of the Storm Damage Assessment Protocol Utility, which was cooperatively developed by the USDA Forest Service, Northeastern Area, the Northeast Center for Urban and Community Forestry, and the Davey Tree Expert Company. The Florida Hurricane adaptation was cooperatively created by Francisco J. Escobedo, School of Forest Resources and Conservation, University of Florida at Gainesville and Chris J. Luley and Jerry Bond of Urban Forestry LLC. This Utility is freely available at no cost to all interested individuals and organizations through i-Tree.