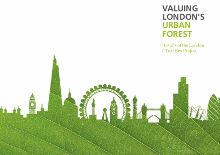 i-Tree Eco has different requirements and provides different results depending on whether your project is in the US, in selected international partner countries (Canada, Australia, the United Kingdom, and Mexico), or in other countries where the model can be used but requires custom processing and other requirements.
For the US, the i-Tree Eco model comes preloaded with local weather and pollution data from a network of monitoring stations. The software also includes local species, climate, and human population data for US locations. All of this preloaded data means US users only need to select their location and provide their tree measurements before submitting their data for automated processing and same-day results retrieval.
Canada, Australia, the UK, and Mexico: i-Tree Eco Ready
The i-Tree Eco software now operates in Canada, Australia, the United Kingdom, and Mexico the same way it operates for users within the US where available data permits. These expansions were facilitated by local partners working directly with the US Forest Service and the i-Tree Development Team. After establishing a cooperative development agreement with the i-Tree Team, international partners provided local weather and pollution data along with additional information necessary to adapt the model for automated same-day project processing.
Though Eco is fully functional in these partner countries, there are still a few limitations to consider.
The energy effect model is adapted from US research that reflects US building practices, climate types, energy uses and emissions factors, which may limit the applicability and accuracy outside the US.
The human health impacts of air pollution removal are based on a US specific model created by the Environmental Protection Agency and are not available for any international projects.
The available pollution and weather year for a Canadian, Australian, UK, or Mexican Eco project is limited to the year of pollution data that was provided by partner countries for integration in the Eco model.
For partner country specific model integration details, see the Air Pollutant Removals, Biogenic Emissions and Hydrologic Estimates for i-Tree Applications documentation.
Other International Users: New Process in Development
New processing system: i-Tree Database - i-Tree Eco v6 can be used in all other countries, outside of the US, Canada, Australia, the UK, and Mexico, but it requires use of the new i-Tree Database system currently being developed.
Previously, international users submitted their project to the US Forest Service for manual processing which could take up to 6 months. In an effort to accommodate growing international interest, we are transitioning to a new system that will help automate processing and allow users to have their new international locations incorporated into a future version of Eco. This new system is called i-Tree Database, and additional news about this tool's availability will be posted on this page.
i-Tree Data Requirements - The i-Tree Database requirements are currently being revised but are expected to be similar to the requirements listed below. The information below can be used for reference and will be finalized soon.
Hourly Pollution data - A calendar year of properly formatted pollutant data is required for air quality analyses.
Location information - specific data for the study area such as elevation and growth season dates.
International weather station selection - Eco v6 international users can select from validated weather stations during project configuration. However, most international stations may be missing 1-hour precipitation data needed for the avoided run-off report.
Hourly precipitation - The avoided runoff analysis requires hourly precipitation data for a calendar year.
Radiosonde station ID - A radiosonde station shall be specified to be used for the analysis.
Bioemissions City selection - A U.S. city shall be specified with similar climate characteristics as the international location.
Additional International Eco Resources
The following resources are to help users outside the United States who are considering or are in the process of conducting i-Tree Eco projects. Please also visit the Resources-Archives section of the website for additional Eco resources
Eco Guide to International Projects - Former guide for international projects outside the U.S, AU, CAN and the UK. This guide can be used for reference while it is being updated for the new i-Tree Database system.
Eco pollution data requirements (.pdf) - Document describing data and formatting requirements for international pollution data needed for the i-Tree Eco v6 analysis.
Eco pollution data example (.xlsx) - This Excel file is an example of hourly air pollution data required for Eco v5 & v6 users outside the US, UK, CAN & AUS. Note - PM10 is not required for Eco v6.
International Credits
The United Kingdom expansion is brand new as of 2016. This first expansion to Europe was spearheaded by partners at Treeconomics and Forest Research, the research agency of the Forestry Commission.
The Australia and Canada features have been fully integrated since 2012 leading to dozens of projects in those countries. In Australia, ENSPEC coordinated efforts with the i-Tree Eco Development Team to collect species, location, environmental and economic data with additional support and funding form the Melbourne Urban Forests Accord Group and Arboriculture Australia. Andy Kenney (University of Toronto) helped facilitate data acquisition for development of the Canadian Eco localization.
Future International Expansion
The i-Tree Team often receives request to fully adapt i-Tree Eco for use in other countries. Learn more about the requirements and limitations of expanding the model for other countries. Learn more >