i-Tree International
General Information
What countries can i-Tree Tools be used in?
i-Tree Eco is adapted for use in Canada, Australia, the United Kingdom, Mexico, and the European Union. Some individual locations are also available and can be reviewed here: https://www.itreetools.org/database/#/viableLocations.
i-Tree Hydro is in the process of being adapted for wider use beyond the United States but still has significant limitations. Projects in countries that i-Tree Tools have been adapted for can be processed automatically through i-Tree software without delay.
Countries other than the United States and countries listed above require additional steps for project processing. For more information, please see Forum FAQ: Which i-Tree Tools can be used internationally?
Overview of International i-Tree Usage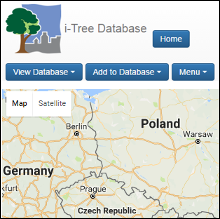 Due to growing demand, we're no longer able to process international data manually. Instead, we developed i-Tree Database, a utility which allows users to submit data for their project area that will then be validated and included in our i-Tree Tool databases, enabling that project area to run in certain i-Tree Tools in future updates. In the past, international projects required extensive time and resources to manual process by the Forest Service. The new system will automate validation processes and make i-Tree applications available to more global users.
For more information, please see the key points about i-Tree Database and important links below.
Key Points about i-Tree Database
i-Tree Eco and Hydro projects were processed manually by the US Forest Service as a courtesy in the past, but that is no longer possible due to increases in demand.
i-Tree Database enables international users to enter data necessary for running an i-Tree Eco project in a given area. Necessary data should be entered into i-Tree Database as early as possible for users setting up projects in international areas which can't already be processed automatically.
The US Forest Service will validate data submitted through i-Tree Database and will load valid data into i-Tree's databases, to be updated for users with the following i-Tree Update. Invalid data will be returned to sender for correction.
Once data for a project area has been validated and loaded into i-Tree Tools, users can run i-Tree Eco projects in that area without delays. As i-Tree Database is used, a list will be updated indicating what areas are entered into i-Tree and are ready for project processing.
Important Links
General
This post on the i-Tree Support Forum is a good starting point for international users as it provides an overview of which i-Tree Tools can be used internationally and what additional requirements or limitations are involved.

i-Tree Database is a system that will validate and accept international pollution data, hourly precipitation data, location details, new species information, and other model requirements. Data submitted through this system will be vetted and integrated into the Eco model - and potentially other i-Tree Tools - as a new international location that would be available for automated processing in a future Eco update.
Program Specific
This is the main page for i-Tree Eco users outside of the United States. More detailed pages about specific aspects of international use of i-Tree Eco can be found here.

Forum FAQ: i-Tree Hydro Data Requirements & International Limitations

This post summarizes the data requirements for i-Tree Hydro while highlighting differences in project setup for international users of this tool. Within this post, links are provided for more details about specific parts of project setup (for example, preparing weather data inputs for projects outside of the United States).
Can i-Tree Tools be fully adapted for use in additional countries?
Yes, we have the capacity to adapt i-Tree Tools for use in additional countries, but there is a cost associated with that. If you are interested in expanding i-Tree Tools to work automatically in a country, please let us know by emailing info@itreetools.org. Also, i-Tree Database (see below) can be used to run i-Tree Eco for any area across the world, but requires users to submit local environmental data so that i-Tree Eco can run for that area.
Global User Map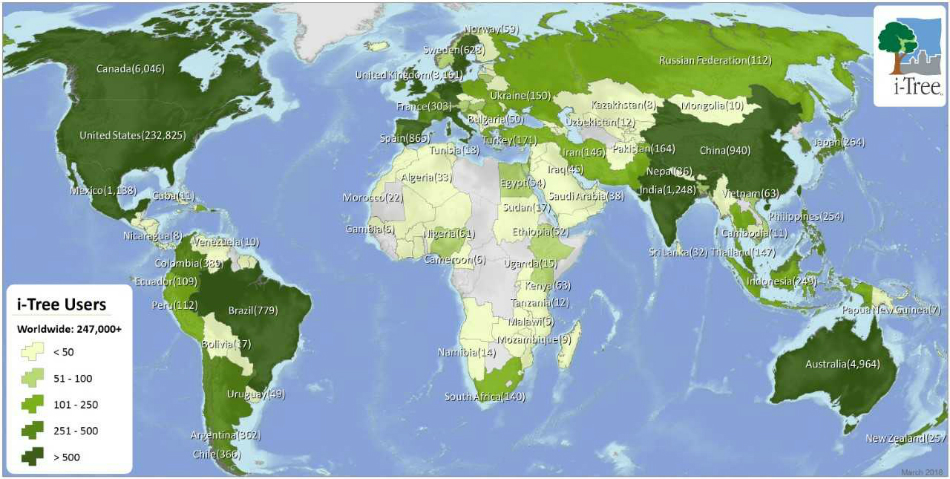 i-Tree Content from Around the World
Translations of existing i-Tree materials and new materials in various languages have been provided by i-Tree Users to make i-Tree Tools more accessible around the world. We are unable to check the accuracy of materials not in English or not produced by the i-Tree Team, and we provide these documents for your convenience as is.
If you can't find what you're looking for, please try using the Search feature. Note that training events from around the world are listed on the Workshops page.
Support (by Language)
简体中文 (Chinese - Simplified)
User Manuals
繁體中文 (Chinese - Traditional)
User Manuals
Français (French)
Deutsche (German)
Italiano (Italian)
日本語 (Japanese)
グリーンビジネス・マネジメント研究会 講演会 [都市緑化による生態系サービスとその貨幣価値の推定] - 平成28年12月14日(水)
Green Business Management Working Group Webinar and Demonstrations of i-Tree Tools in Japanese - Dec 14th
5
한국어 (Korean)
Naabeehó bizaad (Navajo)
Português (Portuguese)
Español (Spanish)
User Manuals
Presentations
Reports (by Nation)
Americas
Canada
República Dominicana
México
Puerto Rico
Europe
France
Deutschland (Germany)
Magyarország (Hungary)
Suomi (Finland)
Éireann (Ireland)
Italia (Italy)
Portugal
España (Spain)
Schweiz (Switzerland)
United Kingdom
Oceania
Australia
New Zealand
Acknowledgments and footnotes
1 Spanish translation of the Eco manual was financed by USAID Colombia and coordinated by the International Programs Office of the US Forest Service.
2 Spanish translation provided by Horacio De la Concha of AGRINET México.
3 Chinese simplified and traditional translation provided by the Taiwan Forestry Research Institute.
4 Korean overview of i-Tree provided by Hang Ryeol Na in April, 2011.
5 Japanese green business management working group webinar and demonstration of i-Tree Tools provided by Satoshi Hirabayashi of the Davey Institute.
6 Spanish translation of Eco manuals and guides was supported by the International Programs Office of the US Forest Service.
7 Translations provided by the Limited English Proficiency Program of the USDA Forest Service.